Gatherings 
I am thrilled that Darcy and Doug Orr  commissioned me to create a quilt for the Swannanoa Gathering, a series of music workshops held each summer on the campus of Warren Wilson Collge.  The quilt is displayed during concerts and other events during this wonderful event that we have been a part of for so many years.  It was a huge hit last summer at the Gathering, and I'm amazed/honored/thrilled/humbled to say it won First Place in Special Techniques at the 2014 Asheville Quilt Show, as well as the more prestigious Viewer's Choice.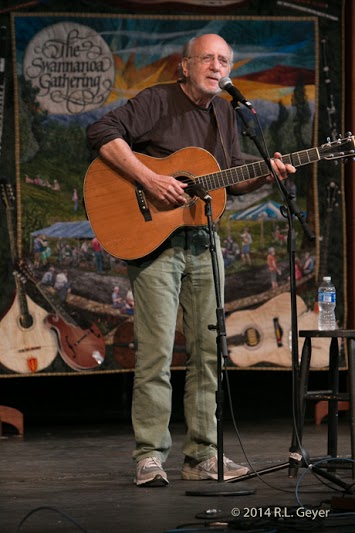 Peter Yarrow at the Swannanoa Gathering

Swannanoa String Band, 1895
In 2013, The Black Mountain Center for the Arts hosted a solo show of my work, in conjunction with the Swannanoa Valley Museum's seasonal opening. SVM's lead exhibit was 'Music in the Valley' and was based on this wonderful vintage photograph: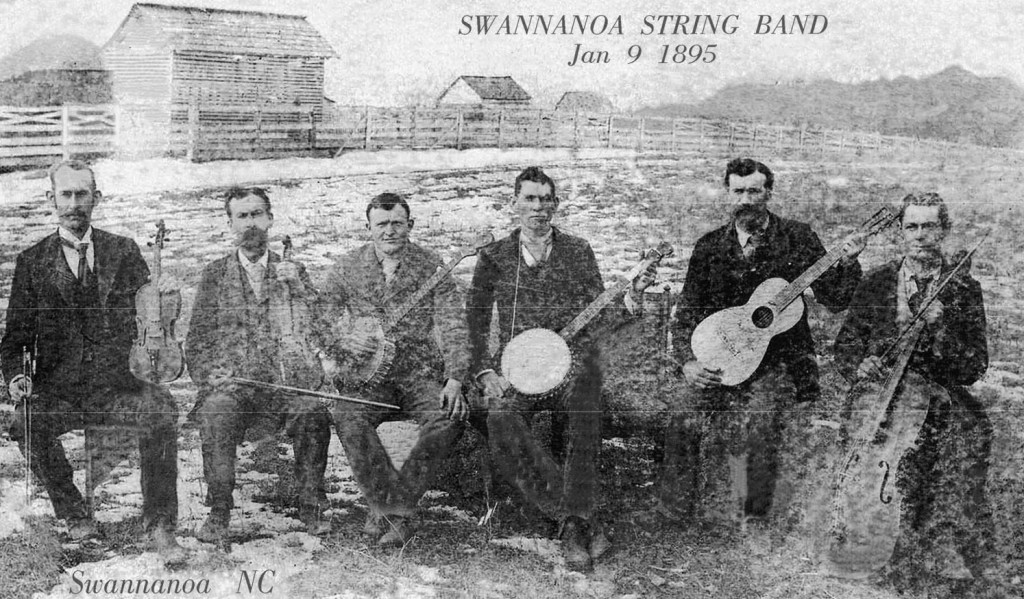 Just for fun, I interpreted this photo in fabric, and it was the lead quilt in the gallery exhibit next door, at BMCA.  I am pleased to say it also won First Place in Art Quilt-Pictorial in the 2014 Asheville Quilt Show, and was accepted for exhibition in the American Quilters Society 2015 show in Paducah, KY.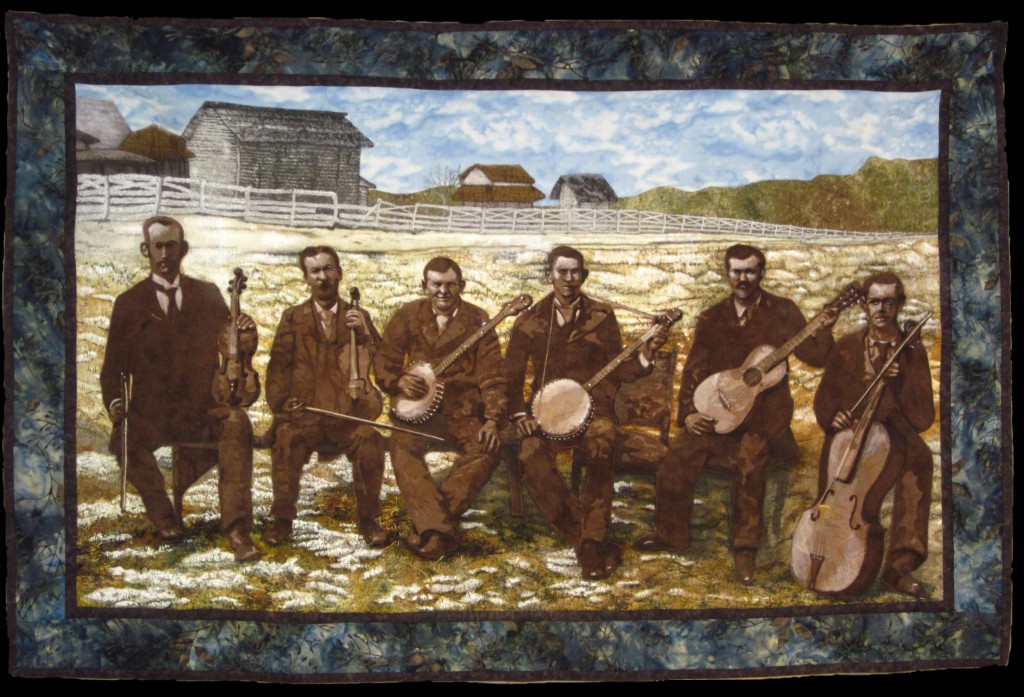 Faces of Music
A quilt I finished early in 2012, using a technique I learned from Marilyn Wall at John C Campbell Folk School, for turning photographs into fabric. No, these aren't printed on fabric; these are actually cut out, by hand, in several different shades then stacked and fused together. In this case, I created a collection of famous musicians, who have influenced the musical direction of a music store I used to own in Black Mountain NC, where it remains on exhibit today. All of them used hand-dyed fabric from Vicki Welch, and they are all approximately 8″ x 10″ each. Here is the final product, a collage which now hangs on a wall in Acoustic Corner's showroom.  The individual images are featured below.
 Bill Monroe

 B.B. King

 The Beatles

  Bob Dylan

 Bob Marley

 The Carter Family

 Bonnie Raitt

 Charlie Christian

 Chet Atkins

 Django Reinhardt

 Clarence White

 Doc Watson

 Eric Clapton

 Lester Flatt and Earl Scruggs

 Bela Fleck and Toumani Diabate

 Jerry Garcia and David Grisman

 Jean Ritchie

 Joni Mitchell

 Merle Travis

 Paul Simon

 Pete Seeger

 Ralph Stanley

 Rev. Gary Davis

 Robert Johnson

 Taj Mahal

 Tommy Jarrell

 Vasser Clements

 Willie Nelson

 Woody Guthrie
My Mother's Garden – A product of an applique class at Marti's Patchwork Cottage, and a gift for my mother's birthday. Closeups of individual blocks below; click on them to see details. Completed 2012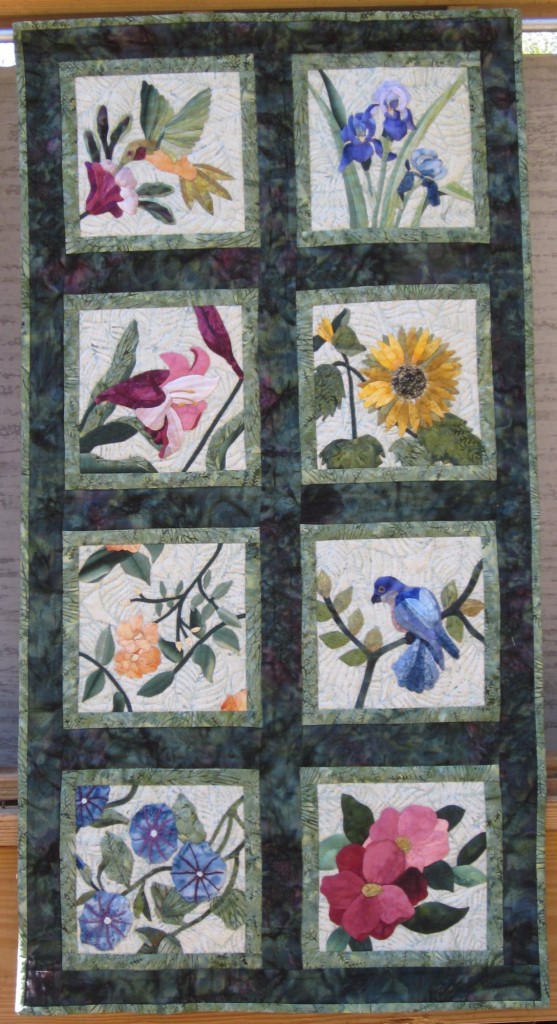 Quilt for Hajime
 ~ In 2010 my oldest Japanese nephew came here from Japan to attend college; this quilt commemorates that journey. The symbol at the center in the town mark of his home 
village, Takicho.  The four kangi are his favorite p
roverb " move like clouds, flow like water" (or "go with the flo
w"). With vintage Japanese kasuri fabric (ikat) and traditional sashiko quilting technique, this quilt is to remind Hajime of where he came from, and not to worry about where he is going. About 6 ft square.