Chalk Cliffs, Hitchcock Woods was completed December 2017. Based on photography by Shelly Marshall Schmidt, it showcases one of the unique environments in Hitchcock Woods, one of the largest urban forests in the US, and the heart of my home town, Aiken SC. This was a commission to benefit the Hitchcock Woods Foundation. 49″ x 41″. Features custom hand-dyed fabric from Vicki Welsh for the night sky.
Fiddleheads for Katie was completed June 2016.  Commissioned by friend and wonderful dulcimerist Katie LaRaye Waldren, it is based on real sculpture by Harry McDaniel on display at the Kellogg Center in Horseshoe NC. 51″ x 31″. Lots of applique and pearl cotton embroidery.
Be Here Now. A companion quilt to Skyland Dawn (below), this 4.5′ by 3.5′ quilt continues my exploration into layering tulle, applique, and embroidery, this time in a much more fanciful approach . . . . no pattern was used anywhere in this quilt; the entire piece is free-form. Completed Summer 2013.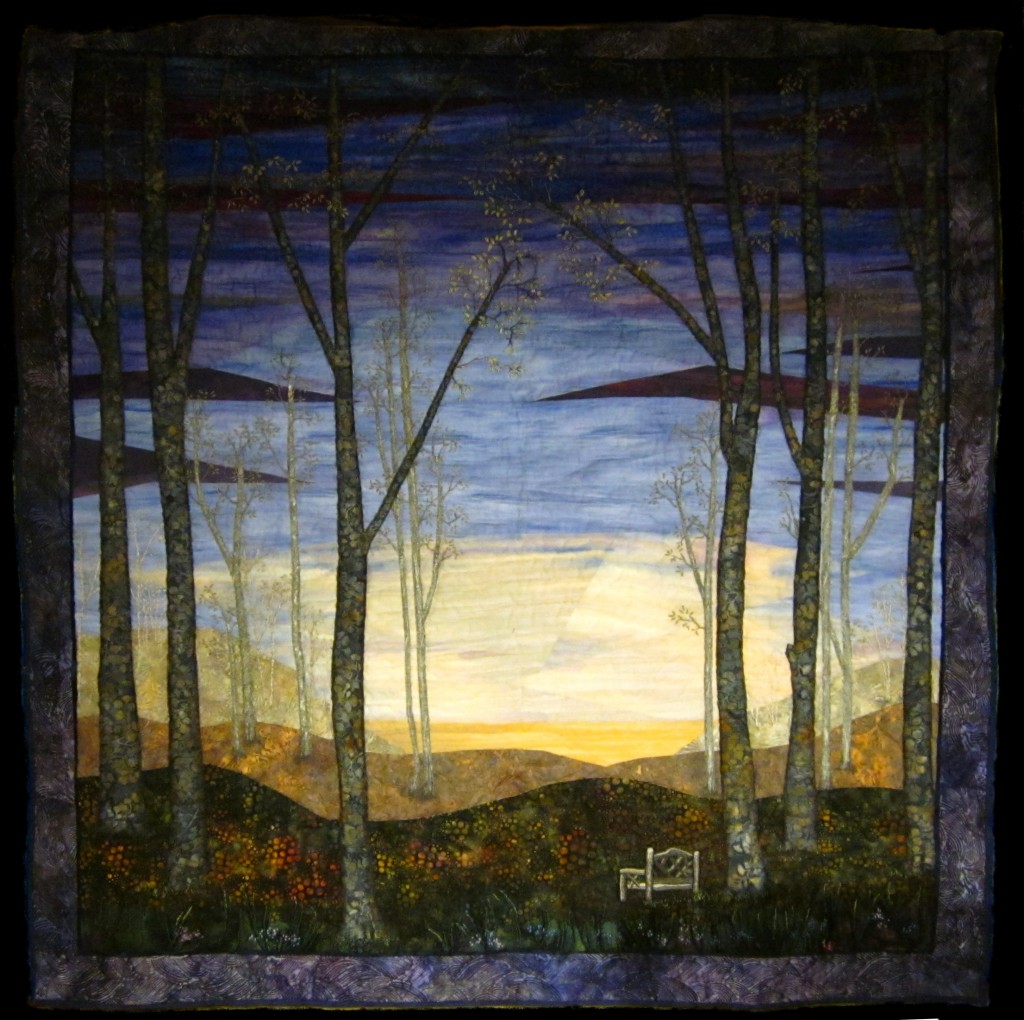 Aspen Sunrise. This was a spinoff commission from the previous landscape quilt ('Summer Evening at the Woodland Edge', below). Same technique of pieced background and layers of applique, tulle, and embroidery. Also about 4′ x 3′. Completed in January 2013.
Summer Evening at the Woodland Edge. Completed in 2012, this one won 2nd place in the 'Large Art Quilt' category in the 2012 Asheville Quilt Show.  It is loosely based on a painting by Carolyn Reynolds, and incorporates applique, embroidery, and tulle. About 4′ x 3′.
Skyland Dawn ~ Completed October 2010, a gift to my physical therapist and friend Melinda Halford at Skyland Physical Therapy, for 'fixing' my hip. About 3′ by 4′.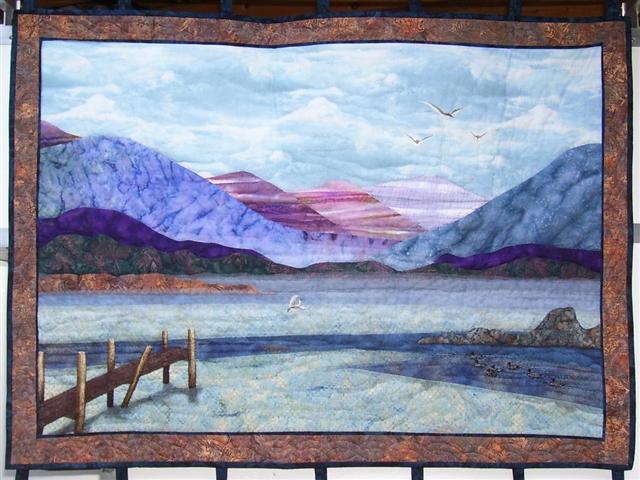 Waterwheel, Berry College, Roan, Georgia ~ Also completed in October 2010, this is a gift for my husband, who is passionate about alternate energy. Pieced and appliqued, but also extensively painted and embroidered. Measures about 3′ by 3′ (the wheel measures 42′ feet!).
Mitchell's Arabian Through the Fog ~ Completed in 2009, a gift for White Horse Black Mountain, a local music venue. About 4 feet by 5 feet. Fog effect created with layers of tulle.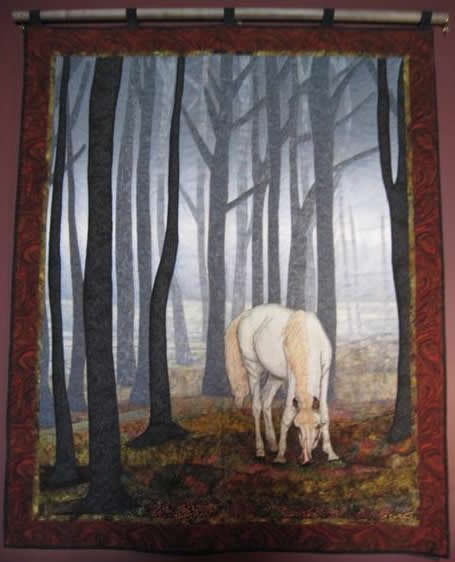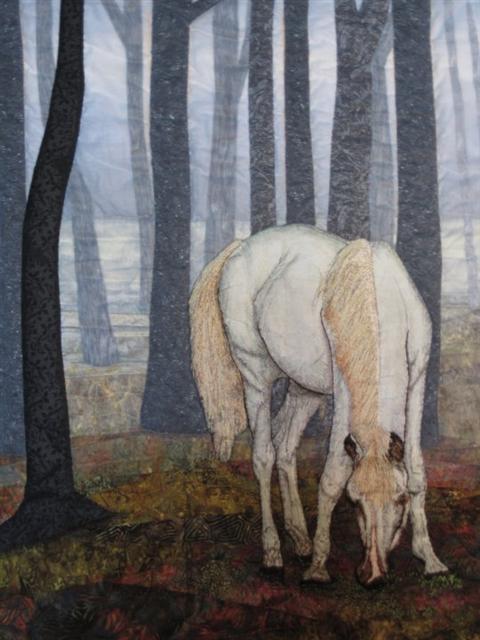 Autumn ~ Based on a painting by the same name, I think, by an artist who's name I can't remember. My first attempt at a seriously pieced quilt.  About 3 feet by 4 feet. Two detail shots below.