In 2017 I starting teaching a class at John C. Campbell Folk School, currently called 'From Photo to Fabric', where I teach my students to create 'fabrications'. Below are some of the ones I've done. I learned the technique from Marilyn Wall at JCCFS, who asked me to take on the class when she retired. It's an amazing technique that's hard to explain. I do some image processing in my computer, print out several copies, temporarily adhere the images to various pieces of fabric (usually gradations of the same shade), cut out the fabric with tiny sharp scissors, stack 'em up, and fuse them together. It's easier than it sounds, and very addictive. With it you can create smallish wall hangings that stand alone, or integrate fabricated images into larger quilt projects, as I did with the Swannanoa String Band, 1895.
Capo and Ceili – Christmas gifts from Richard Halford to his lovely bride Melinda, completed fall 2019. Both are around 16″ x 20″. NFS.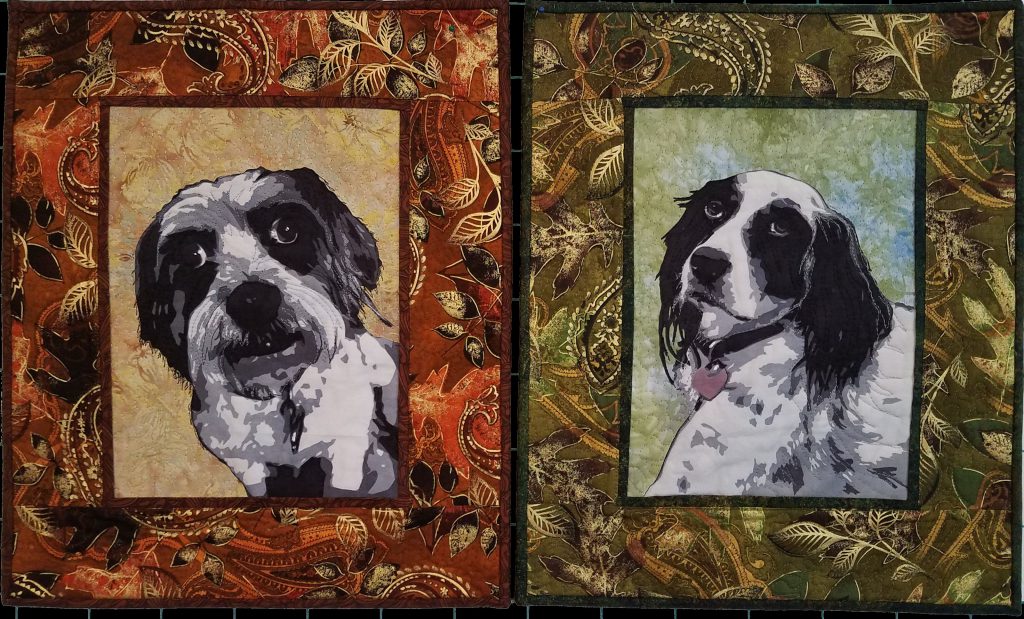 Lula – my friends Cindy and Greg's dog, completed in time for Christmas 2019. About 14″ x 22″, NFS (but would be $90)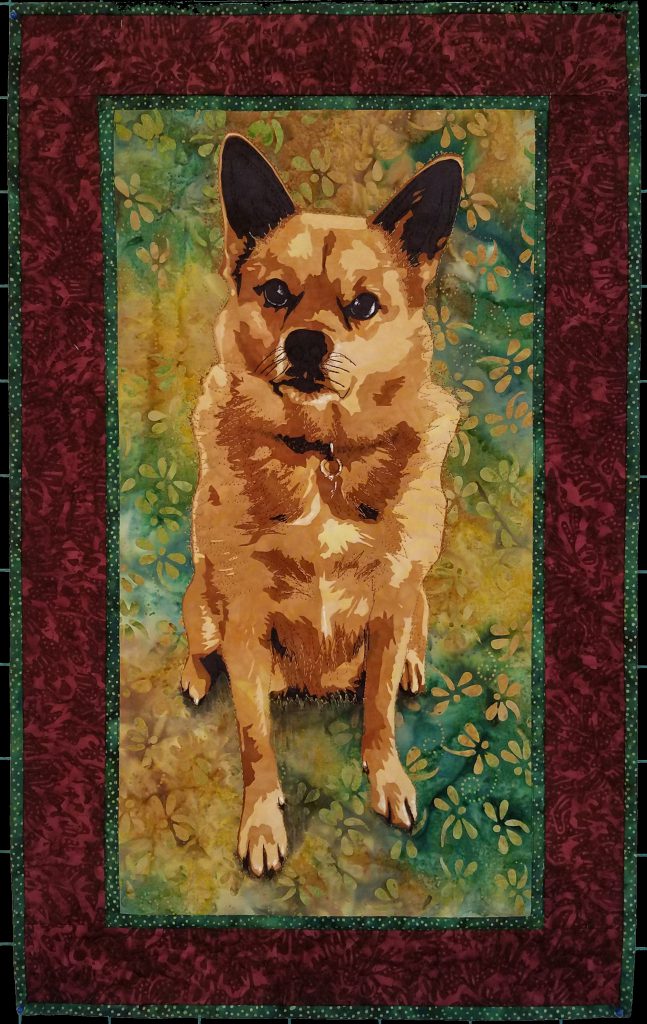 Happiness is a Banjo in a Bottle – When my friend and Renaissance Man Clyde Hollifield showed me this picture of him in the spring of 2019, I knew I had to 'fabricate' it. It showed in the 2019 Asheville Quilt Show. About 16″ x 20″, NFS (but would be around $100).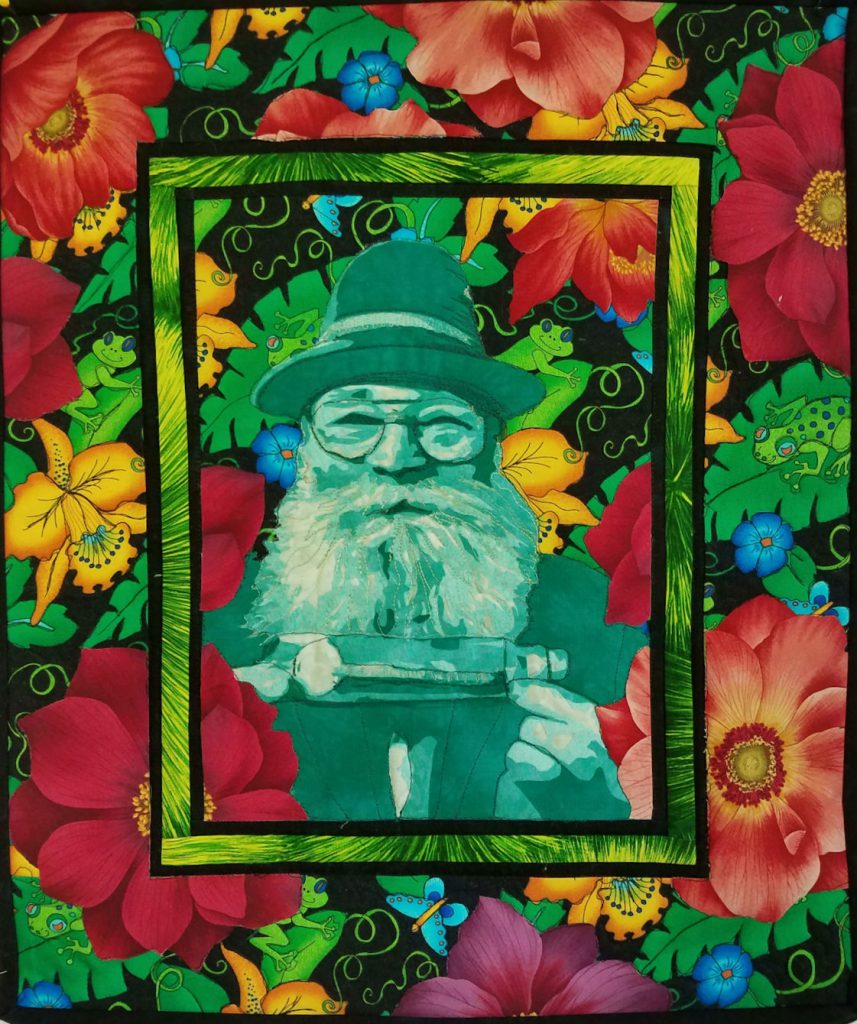 This is what friend and Master Puppeteer Hobey Ford did with the same photo (and what inspired me to give it my interpretation):
The Prophet Bert – snapped this one of my buddy Bert Ivey when he and Aisha stopped in for a visit in the fall of 2018. Finally got around to fabricating it this winter. 16″ x 20″, roughly, NFS (but if it was it would be $100).
Still He Waits – my own dog Ben. Good model, works for cheap. 16″ x 20″, roughly, $100 (yes, I'd sell my dog — his image only!).
A trio of Dog Portraits – commissioned by Helen and John Sullivan of the Arrowhead Gallery and Studio (thank you for your patronage!!!),  these were made as 2018 Christmas gifts for their fellow dog-owned friends. Each measures about 16″ x 20″, which is turning out to be a standard size. Each sold for $100, which is pretty much the standard price. If you're interested in a pet portrait like one of these, please contact me.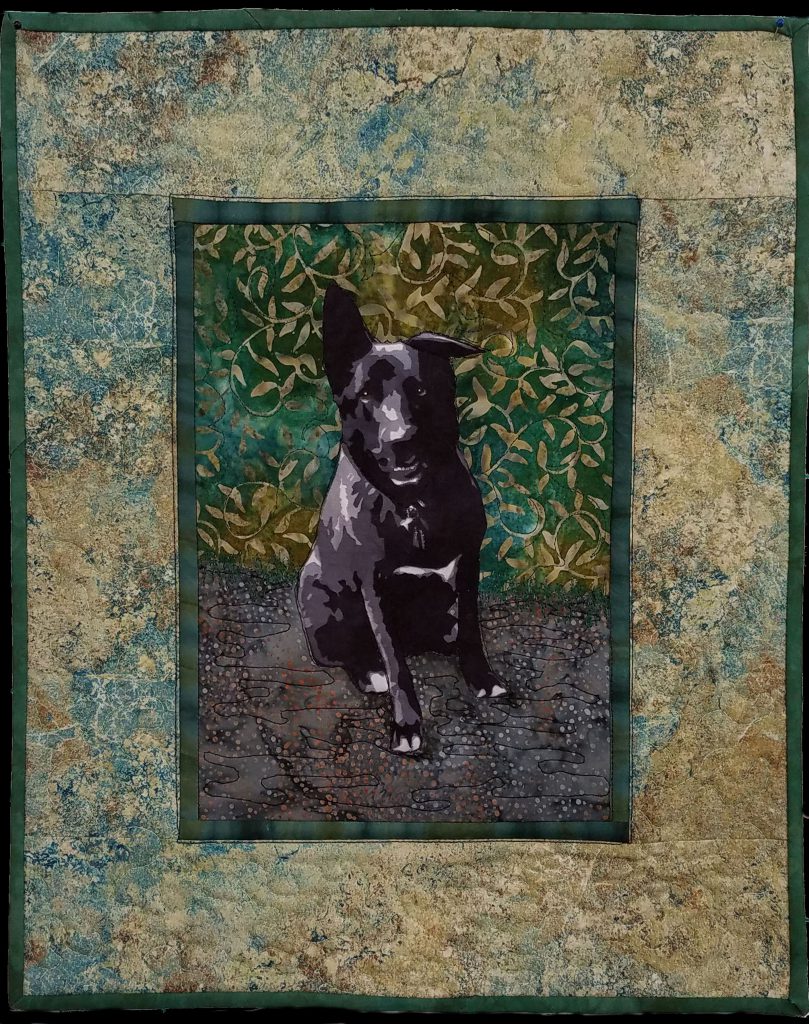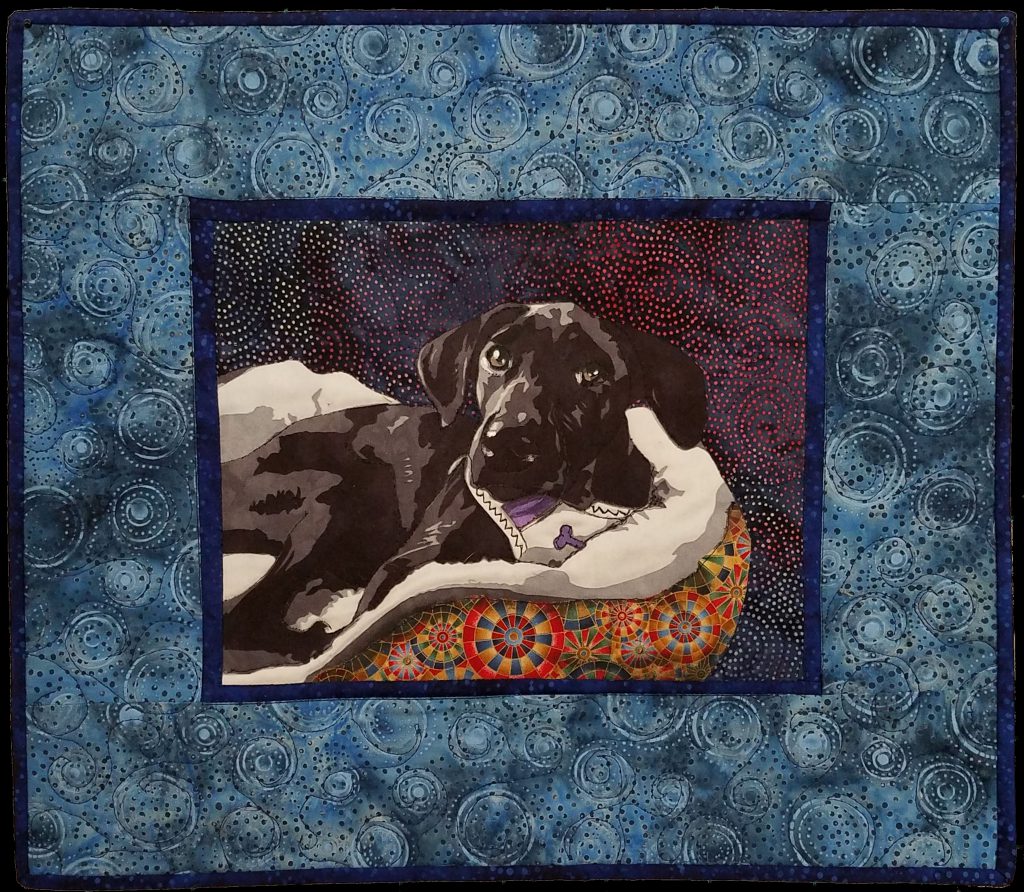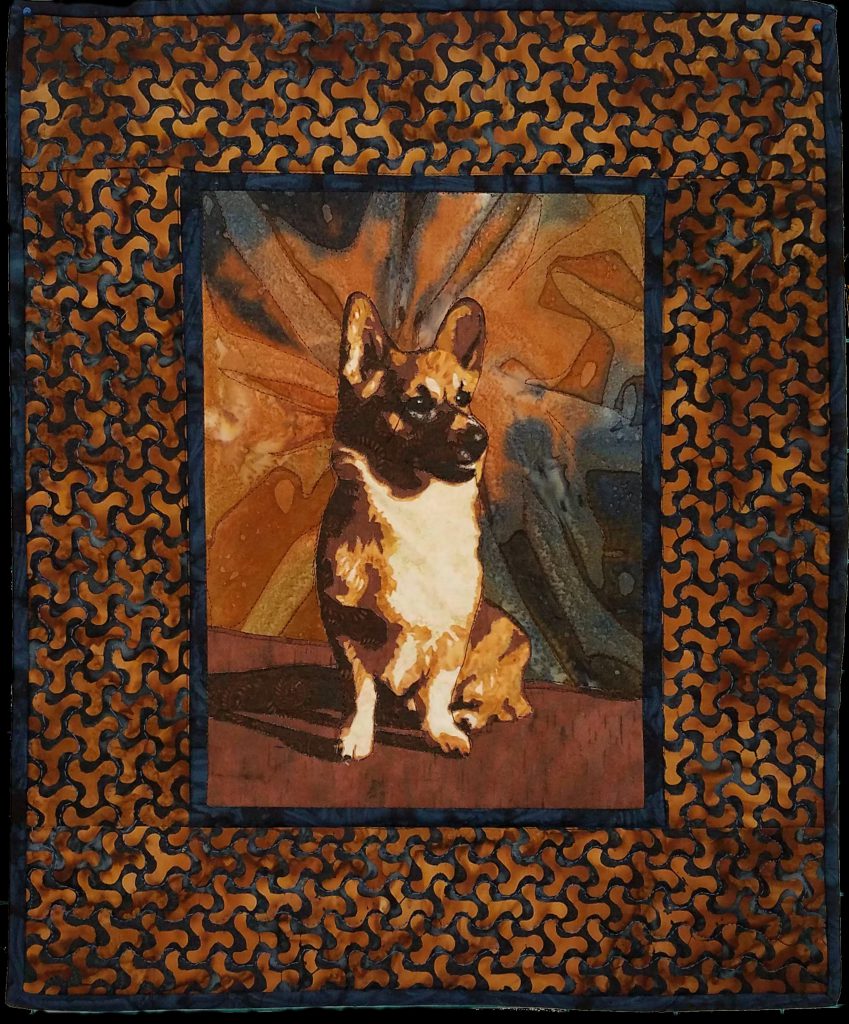 Alexis in Okinawa, 1982 – a chance photograph that seems to capture my mother's artistic spirit so well. Border is hand-done sashiko embroidery, a nod to our family's Japanese connections. About 16″ x 20″; completed 2018. NFS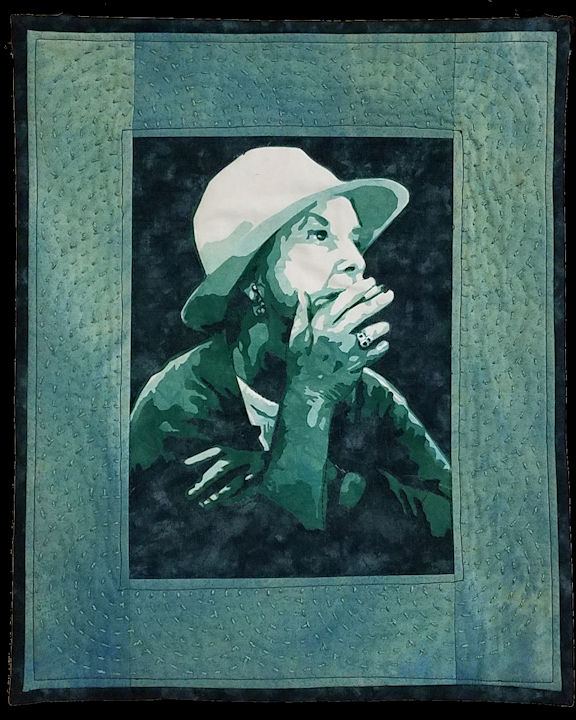 The Instructors of Acoustic Corner – It was an interesting challenge to 'fabricate' this image at this scale. First time using an patterned final layer to tie everything together. These wonderful musicians were our instructors when we owned the music store, and this was taken just before the annual concert in 2012. 40″ x 17″. NFS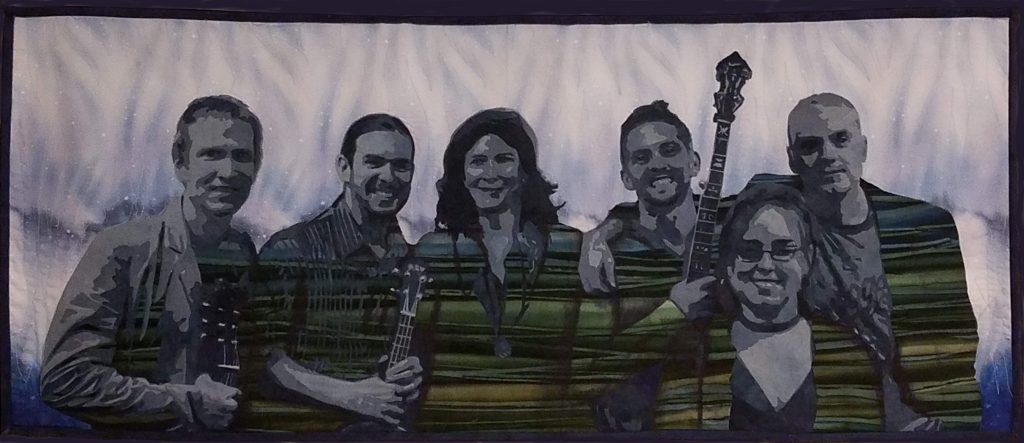 Faces of Music – In 2012 I created a collection of famous musicians, who have influenced the musical direction of a music store I used to own in Black Mountain NC, where it remains on exhibit today. All of them used hand-dyed fabric from Vicki Welch, and they are all approximately 8″ x 10″ each. Here is the final product, a collage which now hangs on a wall in Acoustic Corner's showroom.  The individual images are featured below. Private Collection
 Bill Monroe

 B.B. King

 The Beatles

  Bob Dylan

 Bob Marley

 The Carter Family

 Bonnie Raitt

 Charlie Christian

 Chet Atkins

 Django Reinhardt

 Clarence White

 Doc Watson

 Eric Clapton

 Lester Flatt and Earl Scruggs

 Bela Fleck and Toumani Diabate

 Jerry Garcia and David Grisman

 Jean Ritchie

 Joni Mitchell

 Merle Travis

 Paul Simon

 Pete Seeger

 Ralph Stanley

 Rev. Gary Davis

 Robert Johnson

 Taj Mahal

 Tommy Jarrell

 Vasser Clements

 Willie Nelson

 Woody Guthrie
Toby-in-the-Grass – Black dogs are hard to do, unless you get them in good light.  About 14″ x 14″; 2014. NFS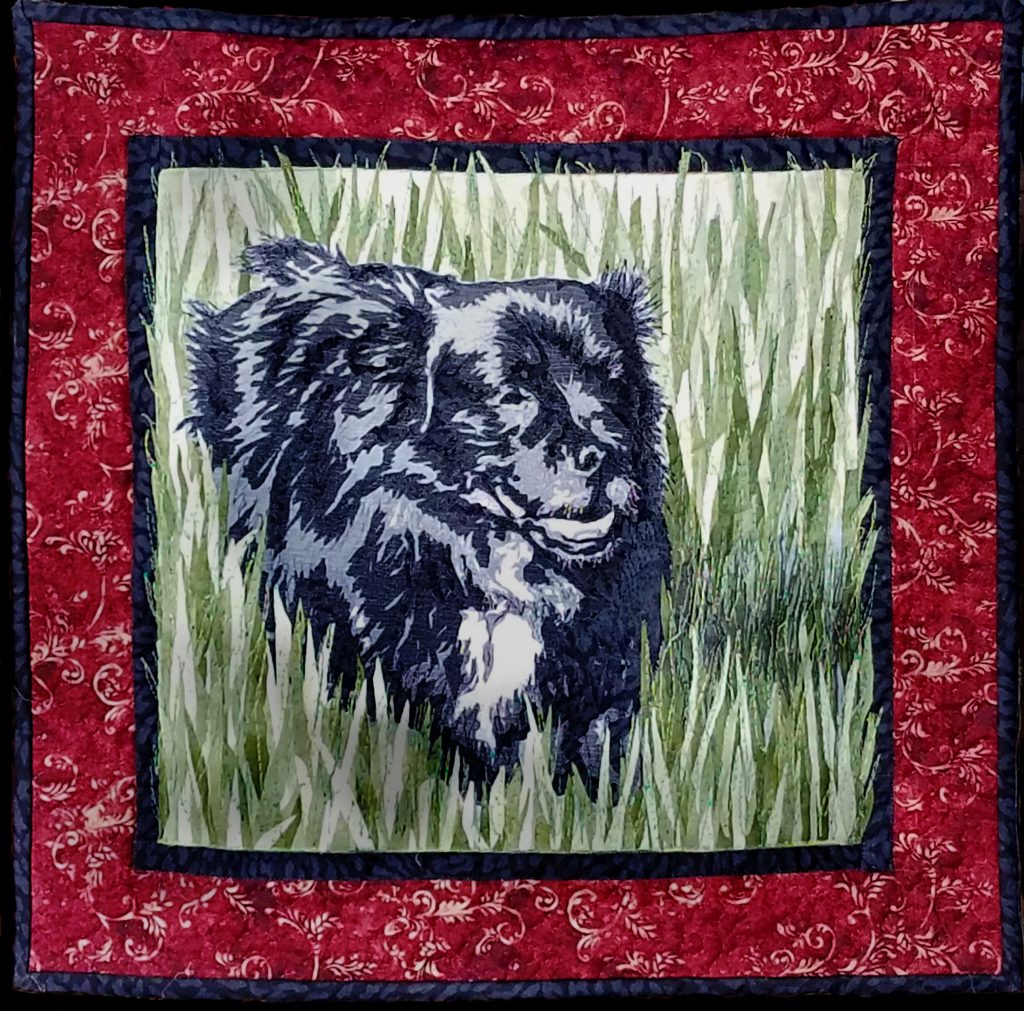 Woodland Ben – an experiment with commercial printed fabrics, instead of batiks. About 14″ x 14″; 2016. NFS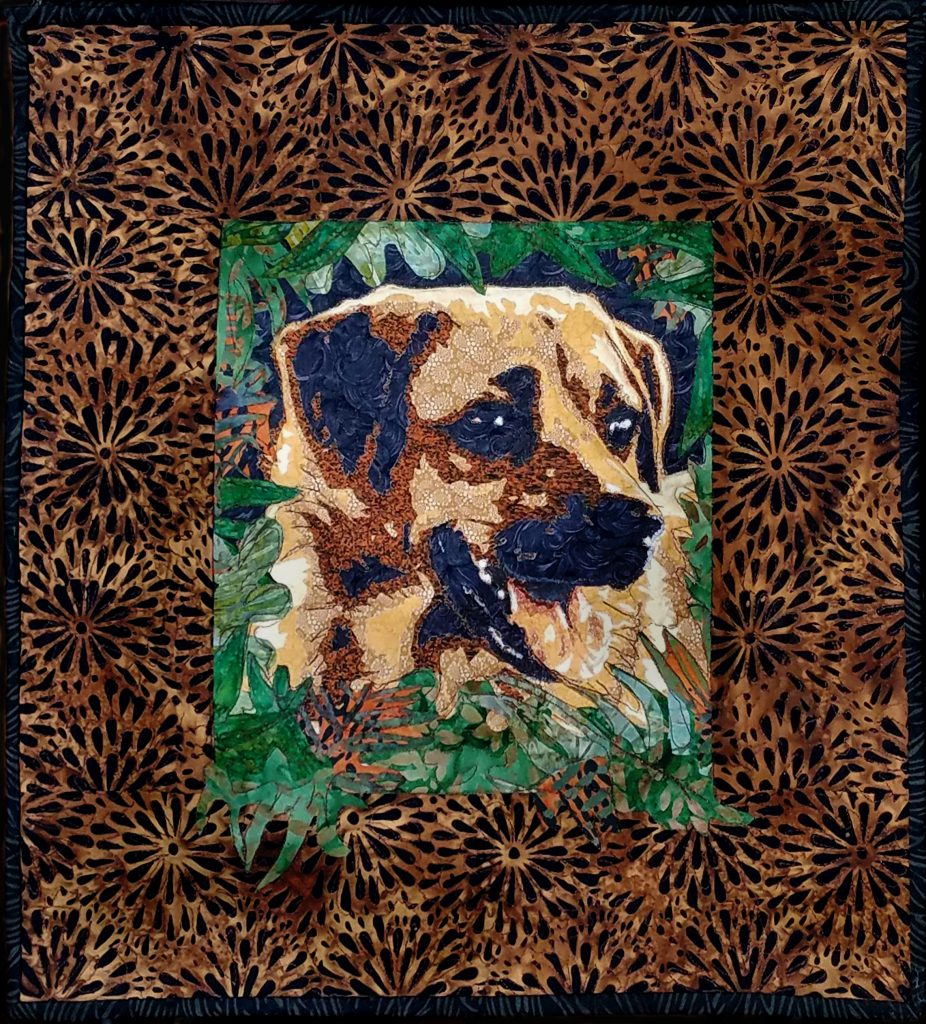 Simon Sleeps – proof that the technique applies to cats, too. 17″ x 14″; completed 2018.  $80