Fall, 2017 – My class on 'Fabrications' at John C. Campbell Folk School was wonderful! I'll be teaching it again in late October of 2018. See more info below.
New Years, 2017 – I'm looking forward to teaching my first class at John C. Campbell Folk School *, where I've been a regular student (and assistant teacher) for the past decade. One of my mentors, Marilyn Wall, asked me to teach her 'Fabrications' class for her in 2017. This is a 'fusibles' class, a technique which I don't normally use in landscape quilts, but one that I find absolutely fascinating. I'm getting ready for the class by working on a series of fruits and vegetables (had a big garden last year . . . thinking a lot about produce these days). Here's what my design wall looks like now  . . . lots of experiments in process!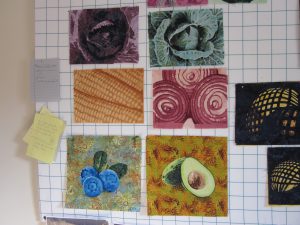 * For those of you who've gotten here because you're looking for more information about the class, each of the images you see here are layers of four or five fabrics, fused together. We'll be working on a more simple system in the class, but the technique is the same. You can see more of my 'fabrications' on my 'Unique Quilts' page.
********************************************************
2016 update: Studio is up and running and is fantastic! Tom's woodshop is finished, too, and he's busy settling in. New dog Ben has learned the route between both workplaces and the house, so he's making the rounds. I've completed two commissioned landscape quilts this year .  . . Check them out on the Landscapes page.
**********************************
I've haven't been very productive in 2015 . . . we moved to Old Fort NC this year, a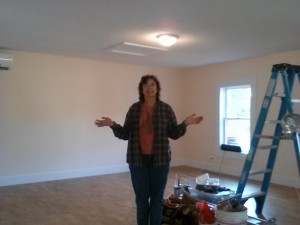 nd remodeled a glorified shack as my new (and totally wonderful!) studio space. Recently I've been honing my machine quilting skills. Hopefully I'll have something to show for all of this early in 2016.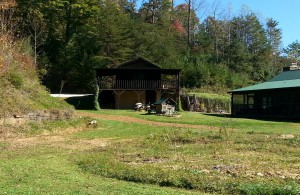 Love love love the new studio, overlooking the garden and 'the bog'. Life out in the country is great! Soon Husband Tom will have his own woodshop, too!
November 3, 2014 — Just finished  hanging a joint exhibit with fabric artist, good friend, and awesome musician Julia Weatherford at the Morganton Town Hall 'Art in the Hall' exhibit space. It will be up and available for viewing weekdays through the first of the year.  Here are a few shots of the show; the Town of Morganton has a whole bunch of really nice photos here.